At the same time, the absorption of heat by the refrigerant turns the refrigerant from a liquid into a vapor. A compressor pumps the heat laden vapor through a vapor line to an outdoor coil which discharges the heat extracted from the indoor air. As the heat is discharged, the vapor is cooled and changes back into a liquid refrigerant. The refrigerant is then pumped back through a liquid line to the indoor coil and the cycle is repeated.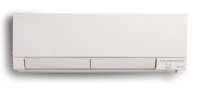 The mini split contains a reversing valve which reverses the flow of refrigerant and thus allows the mini split to serve as a heater during cold weather.
A mini split serves as a heater by absorbing heat from outdoor air and pumping it indoors. As the outdoor air passes over the outdoor coil, heat from that air is absorbed by the refrigerant contained inside the coil.
The absorption of heat changes the refrigerant from a low-temperature liquid to a low temperature, low-pressure vapor. The vapor then passes through a compressor where it is compressed into a high pressure, high temperature vapor. The hot vapor then circulates into the indoor coil. As indoor air passes over the indoor coil, it absorbs heat from the coil. The warmed air is then redistributed through the space.
---
Southside provides maintenance and repair for makes and models of mini split heat pumps
Southside installs industry leading Mitsubishi and Fujitsu Mini Splits
---